#OTD in Royal History 15-28 February
Updated: Feb 17
15 February
15 February 1952
George VI funeral takes place at St. George's Chapel, Windsor Castle.
The king was interred initially in the Royal Vault until he was transferred to the King George VI Memorial Chapel inside St. George's on 26 March 1969.
The 15th, a Friday, dawned cloudy & misty. At 9.30 the mile-long cortege began its slow journey from Westminster Hall as Big Ben tolled fifty-six times – once for each year of the King' s life – & artillery salutes of fifty-six guns were fired in Hyde Park & at the Tower of London.
The route along the Mall passed Marlborough House, where Queen Mary watched from a window, & continued past St James's Palace to Piccadilly, Hyde Park Corner, Marble Arch, Edgware Road & by Sussex Gardens to Paddington Station. Detachments from the services lined the route & headed the cortege.
In the procession walked four British Army field-marshals (Alan Brooke, Ironside, Montgomery & Slim), four admirals of the fleet & four marshals of the Royal Air Force. An escort of the Household Cavalry, pipers & the band of the Scots Guards preceded the Earl Marshal & some of the King's personal servants, walking immediately in front of the gun-carriage bearing the coffin, on which rested the imperial crown, orb & sceptre.
.
16 February
16 February 1547
Henry VIII funeral takes place
Henry VIII (28 June 1491 – 28 January 1547) was King of England from 22 April 1509 until his death in 1547.
The funeral;
Henry VIII's body was interred in a vault in St George's Chapel Windsor, alongside that of his third wife, Jane Seymour.
"16 strong Yeomen of the Guard took the coffin and with four strong linen towels, which they had for their fees, let it into the vault near unto the body of Queen Jane Seymour, his third wife. Then the Lord Chamberlain, the Lord Great Master, Mr Treasurer, Mr Comptroller and the Sergeant Porter, breaking their white staves upon their heads in three parts, as did likewise all the Gentleman Ushers, threw them into the grave. Thus the funeral ended, the trumpets sounded in the Rood loft & the company dispersed." - an eye witness account of the proceedings.
Today, there is a memorial slab marking his resting place under the Quire of St George's Chapel. As well as containing Henry & Jane, this vault also contains the remains of Charles I & an infant child of Queen Anne, the Stuart queen.
16 February 1820
George III funeral takes place in St George's Chapel, Windsor Castle.
George III died at Windsor Castle on 29 January 1820, six days after the death of his 4th son Prince Edward, Duke of Kent & Strathearn.
George III (4 June 1738 – 29 January 1820) was King of Great Britain & of Ireland from 25 October 1760 until the union of the two kingdoms on 1 January 1801, after which he was King of the United Kingdom of Great Britain & Ireland until his death in 1820.
17 February
Princess Helena of Waldeck and Pyrmont
17 February 1861
Princess Helena of Waldeck and Pyrmont was born
Princess Helena was later the Duchess of Albany as the wife of Prince Leopold, youngest son of Queen Victoria & Prince Albert.
She was born in Arolsen, capital of Waldeck principality, in Germany. She was the sister of Friedrich, last reigning Prince of Waldeck and Pyrmont; Marie, the first wife of William II of Württemberg; & of Emma, Queen consort of William III of the Netherlands (and mother of Queen Wilhelmina).
18 February
18 February 1516
Mary I of England was born
Mary was the only child of Henry VIII by his first wife, Katharine of Aragon, to survive to adulthood. Mary was born at the Palace of Placentia in Greenwich, England
Mary I was also known as Mary Tudor, & as "Bloody Mary" by her Protestant opponents, is best known for her vigorous attempt to reverse the English Reformation, which had begun during the reign of her father, Henry VIII. Her attempt to restore to the church the property confiscated in the previous two reigns was largely thwarted by parliament, but during her five-year reign, Mary had over 280 religious dissenters burned at the stake in the Marian persecutions. Her younger half-brother, Edward VI, succeeded their father in 1547 at the age of nine. When Edward became mortally ill in 1553, he attempted to remove Mary from the line of succession because he supposed, correctly, that she would reverse the Protestant reforms that had taken place during his reign. Upon his death, leading politicians proclaimed Lady Jane Grey as queen. Mary speedily assembled a force in East Anglia & deposed Jane, who was ultimately beheaded. Mary was—excluding the disputed reigns of Jane & the Empress Matilda—the first queen regnant of England. In 1554, Mary married Philip of Spain, becoming queen consort of Habsburg Spain on his accession in 1556. After Mary's death in 1558, her re-establishment of Roman Catholicism was reversed by her younger half-sister and successor, Elizabeth I.
19 February
Henry Frederick Stuart, Prince of Wales - Portrait after Isaac Oliver, c. 1610
19 February 1594
Henry Frederick Stuart was born
Prince Henry was the elder son of King James VI of Scotland (later I of England) & Anne of Denmark. Henry was born at Stirling Castle, Scotland & became Duke of Rothesay, Earl of Carrick, Baron of Renfrew, Lord of the Isles & Prince & Great Steward of Scotland automatically on his birth. His name derives from his grandfathers: Henry Stuart, Lord Darnley & Frederick II of Denmark. He became Duke of Rothesay, Earl of Carrick, Baron of Renfrew, Lord of the Isles & Prince & Great Steward of Scotland automatically on his birth.
He passionately engaged in such physical pursuits as hawking, hunting, jousting & fencing, & from a young age studied naval & military affairs & national issues, about which he often disagreed with his father. The prince's popularity rose so high that it threatened his father. Relations between the two could be tense, & on occasion surfaced in public. With his father's accession to the throne of England in 1603 as James I, Henry at once became Duke of Cornwall. In 1610 he was further invested as Prince of Wales & Earl of Chester, thus for the first time uniting the six automatic & two traditional Scottish & English titles held by heirs-apparent to the two thrones.
As a young man, Henry showed great promise & was beginning to be active in leadership matters. He was widely seen as a bright & promising heir to his father's thrones. However, at the age of 18, he predeceased his father when he died of typhoid fever. He was buried in Westminster Abbey. Prince Henry's death was widely regarded as a tragedy for the nation. According to Charles Carlton, "Few heirs to the English throne have been as widely & deeply mourned as Prince Henry." His body lay in state at St. James's Palace for four weeks. All of Henry's automatic titles passed to his brother Charles, who became the heir apparent to the English & Scottish thrones.
20 February
20 February 1547
Edward VI coronation
Edward VI (12 October 1537 – 6 July 1553) was King of England & Ireland from 28 January 1547 until his death in 1553. He was crowned on 20 February 1547 at the age of nine. Edward was the son of Henry VIII & Jane Seymour. He was the first English monarch to be raised as a Protestant.
Edward VI was crowned at Westminster Abbey on Sunday 20 February. The ceremonies were shortened, because of the "tedious length of the same which should weary & be hurtsome peradventure to the King's majesty, being yet of tender age", & also because the Reformation had rendered some of them inappropriate. On the eve of the coronation, Edward progressed on horseback from the Tower to the Palace of Westminster through thronging crowds & pageants, many based on the pageants for a previous boy king, Henry VI. He laughed at a Spanish tightrope walker who "tumbled & played many pretty toys" outside St Paul's Cathedral. After the service, Edward presided at a banquet in Westminster Hall, where, he recalled in his Chronicle, he dined with his crown on his head.
20 February 1867
Louise, Princess Royal, & Duchess of Fife was born
Princess Louise was the third child & eldest daughter of Edward VII & Queen Alexandra; she was a younger sister of George V. Louise was given the title of Princess Royal in 1905. Known by her shy & quiet personality, Louise remained a low-key member of the royal family throughout her life. In 1889, Louise married Alexander Duff, 6th Earl Fife in 1889. They had three children; Alastair Duff, Marquess of Macduff (stillborn 16 June 1890); Princess Alexandra, 2nd Duchess of Fife (17 May 1891 – 26 February 1959); & Princess Maud (3 April 1893 – 14 December 1945).
Louise with her daughters, Maud and Alexandra, 1911
21 February
21 February 1437
King James I of Scotland was murdered
James I (born. late July 1394) was King of Scots from 1406 until his assassination in 1437. He was born in Dunfermline Abbey to King Robert III & his wife Annabella Drummond. His older brother David, Duke of Rothesay, died under suspicious circumstances while being held by their uncle, Robert, Duke of Albany. His other brother, Robert, died young. Fears for James's safety grew & plans were made to send him to France. In February 1406, James was forced to take refuge in the castle of the Bass Rock in the Firth of Forth after his escort was attacked by supporters of Archibald, 4th Earl of Douglas. He stayed there until March when he boarded a vessel bound for France. On 22 March English pirates captured the ship & delivered the prince to Henry IV of England. Robert III died on 4 April & the 11-year-old James, now the uncrowned King of Scotland, would not regain his freedom for another eighteen years.
James was educated well at the English Court where he developed a respect for English methods of governance & for Henry V. James joined Henry in his military campaign in France during 1420 & 1421. His cousin, Murdoch Stewart, Albany's son, who had been an English prisoner since 1402, was traded for Henry Percy, 2nd Earl of Northumberland, in 1416. James had married Joan Beaufort, daughter of the Earl of Somerset, in February 1424 just before his release in April. The king's re-entry into Scottish affairs was not popular since he had fought on behalf of Henry V in France & at times against Scottish forces. Noble families were now faced with paying increased taxes to cover the ransom repayments but would also have to provide family hostages as security. James, who excelled in sporting activities & appreciated literature & music, also held a strong desire to impose law & order on his subjects although he applied it selectively at times.
To secure his position, James launched pre-emptive attacks on some of his nobles beginning in 1425 with his close kinsmen, the Albany Stewarts, resulting in the execution of Duke Murdoch & his sons. In 1428 James detained Alexander, Lord of the Isles, while attending a parliament in Inverness. Archibald, 5th Earl of Douglas, was arrested in 1431, followed by George, Earl of March, in 1434. The plight of the ransom hostages held in England was ignored & the repayment money was diverted into the construction of Linlithgow Palace & other schemes. In August 1436, James failed in his siege of the English-held Roxburgh Castle & then faced an ineffective attempt by Sir Robert Graham to arrest him at a general council. James was assassinated at Perth on the night of 20/21 February 1437 in a failed coup by his uncle Walter Stewart, Earl of Atholl. Queen Joan, although wounded, managed to evade the attackers & reached her son, now King James II, in Edinburgh Castle.
22 February
A coin depicting David II, king of Scots
22 February 1371
David II, king of Scots died
David II (5 March 1324 – 22 February 1371) was King of Scots from 1329 until his death in 1371. Upon the death of his father, Robert the Bruce, David succeeded to the throne at the age of five, & was crowned at Scone in November 1331, he was the first Scottish monarch to be anointed at their coronation.
David II died unexpectedly & at the height of his power in Edinburgh Castle on 22 February 1371. He was buried in Holyrood Abbey. At the time of his death, he was planning to marry his mistress, Agnes Dunbar (niece of Agnes Randolph, also known as "Black Agnes of Dunbar"). He left no children & was succeeded by his distant nephew, Robert II. He was the last male of the House of Bruce.
David II was the elder & only surviving son of Robert I, king of Scots & his second wife, Elizabeth de Burgh. He was born on 5 March 1324 at Dunfermline Palace, Fife. His mother died in 1327. In accordance with the Treaty of Northampton's terms, David was married on 17 July 1328 to Joan of the Tower, daughter of Edward II of England & Isabella of France, at Berwick-upon-Tweed.
David became King of Scots upon the death of his father on 7 June 1329, aged 5 years, 3 months, & 3 days. David & his wife were crowned at Scone on 24 November 1331. The regency was in the hands of Thomas Randolph of Moray until he & David were overthrown in 1332 by Edward Balliol (son of John Balliol) at the Battle of Dupplin Moor near Perth. David was restored to the throne the following year but again overthrown when Balliol returned with Edward III & defeated the Scots at Halidon hill. David & Joan fled to France where they were guests of King Phillip VI.
In 1341 the Scottish nobles under Robert Stewart gained the upper hand & David and Joan were able to return to Scotland & were restored to the throne. Five years later in 1346 David attacked England in support of France while Edward III was away fighting in France. The Scots were defeated at Nevillie's Cross near Durham where David was injured & taken prisoner. He was held captive in England for 11 years until 1357 when under the Treaty of Berwick he was allowed to return to Scotland for a ransom of 100,000 merks 'A King's Ransom'. The full amount was never paid.
22 February 1933
Katharine, Duchess of Kent was born
Katharine Lucy Mary Worsley was born at Hovingham Hall, Yorkshire. She is the wife of Prince Edward, Duke of Kent, who is a grandson of King George V & Queen Mary, & first cousin of Queen Elizabeth II, they married at York Minster on 8 June 1961.
Together, the couple have three children: George Windsor, Earl of St Andrews (born 26 June 1962); Lady Helen Taylor (born 28 April 1964); & Lord Nicholas Windsor (born 25 July 1970). Katharine suffered a miscarriage in 1975 & gave birth to a stillborn son, Patrick, in 1977, a loss that caused her to fall into a state of severe depression, about which she has spoken publicly. "It had the most devastating effect on me," she told The Daily Telegraph in 1997. "I had no idea how devastating such a thing could be to any woman. It has made me extremely understanding of others who suffer a stillbirth."
The Duchess of Kent gained attention for her conversion to Catholicism in 1994, the first senior Royal to convert publicly since the passing of the Act of Settlement 1701. She is also well known as the presenter of trophies at the annual Wimbledon lawn tennis championships, a role she inherited from her mother-in-law, Princess Marina, & has since relinquished. As a known football fan, she also has attended, & presented the trophy at more FA Cup finals than any other member of the Royal Family. The Duchess of Kent is strongly associated with the world of music, & has performed as a member of several choirs.
She prefers to be known in her private life as "Katharine Kent", & has also expressed a preference for being known as "Katharine, Duchess of Kent". However, her formal title remains "Her Royal Highness The Duchess of Kent". She is a descendant of Oliver Cromwell.
23 February
Prince Octavius of Great Britain
23 February 1779
Prince Octavius was born
Prince Octavius was born on 23 February 1779, at Buckingham House (now Buckingham Palace). He was the thirteenth child & eighth son of King George III & his queen consort Charlotte of Mecklenburg-Strelitz. The prince's name derives from Latin octavus, the eighth, indicating that he was the eighth son of his parents.
Six months after the death of his brother Prince Alfred (20 August 1782), Octavius was inoculated with the smallpox virus. Several days later, he became ill. His subsequent death on 3 May 1783 at the age of four devastated his parents, & in particular his father. George bemoaned his son's death, of whom he was exceedingly fond; the king's later bouts of madness would involve hallucinations of his young son.
24 February
24 February 616
Æthelberht of Kent died
Æthelberht; (Old English: Æðelberht; c. 550 – 24 February 616) was King of Kent from about 589 until his death. The eighth-century monk Bede, in his Ecclesiastical History of the English People, lists him as the third king to hold imperium over other Anglo-Saxon kingdoms. In the late ninth century Anglo-Saxon Chronicle, he is referred to as a bretwalda, or "Britain-ruler". He was the first English king to convert to Christianity.
Æthelberht was the son of Eormenric, succeeding him as king, according to the Chronicle. He married Bertha, the Christian daughter of Charibert I, king of the Franks, thus building an alliance with the most powerful state in contemporary Western Europe; the marriage probably took place before he came to the throne. Bertha's influence may have led to Pope Gregory I's decision to send Augustine as a missionary from Rome. Augustine landed on the Isle of Thanet in east Kent in 597. Shortly thereafter, Æthelberht converted to Christianity, churches were established, & wider-scale conversion to Christianity began in the kingdom. He provided the new church with land in Canterbury, thus helping to establish one of the foundation stones of English Christianity.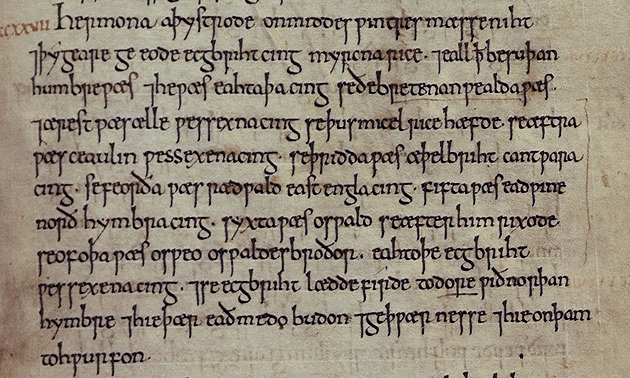 The entry for 827 in the [C] ms. (one of the Abingdon manuscripts) of the Anglo-Saxon Chronicle, listing the eight bretwaldas; Æthelberht's name, spelled "Æþelbriht", is the second-to-last word on the fifth line
Kent was rich, with strong trade ties to the Continent, & Æthelberht may have instituted royal control over trade. Coinage probably began circulating in Kent during his reign for the first time since the Anglo-Saxon settlement. He later came to be regarded as a saint for his role in establishing Christianity among the Anglo-Saxons. His feast day was originally 24 February but was changed to 25 February.
25 February
Princess Alice of Greece and Denmark by H. Walter Barnett, 1903, © National Portrait Gallery, London
25 February 1884
Princess Alice of Battenberg was born
Princess Alice of Battenberg, later Princess Andrew of Greece & Denmark after marrying Prince Andrew of Greece & Denmark was the mother of Prince Philip, Duke of Edinburgh, & mother-in-law of Queen Elizabeth II.
She was born in the Tapestry Room at Windsor Castle in the presence of her great-grandmother, Queen Victoria. She was the eldest child of Prince Louis of Battenberg & his wife Princess Victoria of Hesse & by Rhine. Her mother was the eldest daughter of Princess Alice, Grand Duchess of Hesse, the second daughter of Queen Victoria & Prince Albert. Her father was the eldest son of Prince Alexander of Hesse & by Rhine through his morganatic marriage to Julia von Hauke, Princess of Battenberg. As a great-granddaughter of Queen Victoria, she grew up in Germany, England, & the Mediterranean. She was congenitally deaf.
After marrying Prince Andrew of Greece & Denmark in 1903 (they met at King Edward VII's London coronation in 1902), she lived in Greece until the exile of most of the Greek royal family in 1917. On returning to Greece a few years later, her husband was blamed in part for the defeat of Greece in the Greco-Turkish War (1919–1922), & the family were once again forced into exile until the restoration of the Greek monarchy in 1935.
In 1930, she was diagnosed with schizophrenia & committed to a sanatorium in Switzerland; thereafter, she lived separately from her husband. After her recovery, she devoted most of her remaining years to charity work in Greece. She stayed in Athens during the Second World War, sheltering Jewish refugees, for which she is recognized as "Righteous Among the Nations" at Yad Vashem. After the war, she stayed in Greece & founded an Orthodox nursing order of nuns known as the Christian Sisterhood of Martha & Mary. Increasingly deaf & in failing health, she left Greece for the last time on 21 April 1967 following Colonel's Coup. Queen Elizabeth II & Prince Philip invited her to live at Buckingham Palace, where she later died on 5 December 1969.
26 February
26 February 1275
Margaret of England, Queen of Scotland died
Margaret of England, Queen of Scots died aged 34 at Cupar Castle, & was buried at Dunfermline Abbey, Fife.
Margaret was the second child of King Henry III of England & his wife, Eleanor of Provence, & was born at Windsor Castle on 29 September 1240.
King Alexander II of Scotland (1241 – 1286) had previously been married to her paternal aunt, Joan of England. In 1244, her father & Alexander II met in Newcastle in 1244 to resume peaceful relations between the two nations, & it was decided that the future Alexander III of Scotland should marry Margaret. She was betrothed the same year. She was married on 26 December 1251, when she was 11 years old, at York Minster, to King Alexander III of Scotland, who was 10 years of age. The couple remained in York until January the following year, when they continued to their residence in Edinburgh. She did not like the royal castle & hated Edinburgh, or the climate in Scotland, & she missed England & her family there. She wrote of her homesickness & complaints to her parents, who asked for her to visit them. The Scots, however, refused permission, because of the risk that she would never return.
In 1255, queen Eleanor sent her physician to Edinburgh to investigate Margaret's well being. He reported that she was pale & depressed, & complained about loneliness & neglect. Her father sent a new delegation, wrote to some of the Scottish earls & demanded that she be better treated. Queen Margaret complained to her fathers envoys that she was kept as a prisoner without the permission to travel, & that she was not allowed to see her spouse.
After this, the king of England & the regency council of Scotland came to an agreement. It was agreed that as the royal couple were now fourteen, they should be allowed to consummate their marriage, & the regency council would be obliged to turn the power over to Alexander in seven years time: Alexander would be obliged to give Margaret physical affection, & allow her freedom to travel to visit her parents.
She visited England in 1060-61, to give birth to her daughter Margaret, & in 1069 to attend the translation of Edward the Confessor's relics to Westminster Abbey, both times in the company of Alexander. She was not able to attend her father's funeral in 1272 because of her pregnancy. Margaret & Alexander were present at the coronation of King Edward I at Westminster Abbey in August 1274. She had three children by Alexander; Margaret (b.1261-d.1283), who married King Eric II of Norway; Alexander (1264-84) & David (1272-81).
Margaret was the second child of King Henry III of England
26 February 1959
Princess Alexandra, 2nd Duchess of Fife died
Princess Alexandra, Duchess of Fife, (née Lady Alexandra Victoria Alberta Edwina Louise Duff; born. 17 May 1891), known as Princess Arthur of Connaught after her marriage, was the eldest surviving grandchild of King Edward VII. Alexandra & her younger sister, Maud, had the distinction of being the only female-line descendants of a British sovereign officially granted both the title of Princess & the style of Highness. She had one child by Prince Arthur (1883 – 1938), Alastair Arthur Windsor, 2nd Duke of Connaught and Strathearn (1914 – 1943).
27 February
27 February 1490
Arthur Tudor is created Prince of Wales
On 29 November 1489, after being made a Knight of the Bath, the three year old Prince Arthur was appointed Prince of Wales and Earl of Chester, & was invested as such at the Palace of Westminster on 27 February 1490.
As part of his investiture ceremony, he progressed down the River Thames in the royal barge & was met at Chelsea by the Lord Mayor of London, John Mathewe, & at Lambeth by Spanish ambassadors.
Arthur (1486 – 1502) was the eldest son of King Henry VII & Elizabeth of York, he was the elder brother of King Henry VIII. Arthur was viewed by contemporaries as the great hope of the newly established House of Tudor.
His mother, Elizabeth of York, was the daughter of Edward IV, & his birth cemented the union between the House of Tudor & the House of York.
28 February
Queen Mary; Henry George Charles Lascelles, 6th Earl of Harewood; Princess Mary, Countess of Harewood; King George V by Vandyk, 28 February 1922. © National Portrait Gallery, London
28 February 1922
Princess Mary married Henry Lascelles
On 28 February 1922, Princess Mary (1897 – 1965) married Henry Charles George, Viscount Lascelles, (1882 – 1947) the elder son of Henry Lascelles, 5th Earl of Harewood.
Their wedding at Westminster Abbey was the first royal occasion in which Lady Elizabeth Bowes-Lyon (later Queen Elizabeth, then the queen mother), a friend of Princess Mary & one of the bridesmaids, participated. The Princess was 24, Lord Lascelles was 39.
Princess Mary & Lord Lascelles had two sons: George Lascelles, 7th Earl of Harewood (b.7 February 1923 – d.11 July 2011); & The Honourable Gerald Lascelles (b.21 August 1924 – d.27 February 1998)
For more about Princess Mary visit one of our previous blogs; Princess Mary - The First Modern Princess by Elisabeth Basford
Visit our shop for our kings and queens range.
.Available in posters, framed posters, canvas, A5 postcards, laptop sleeves & more.
Thank you for reading.